Wondering how to wear a maxi dress in the fall? We have 11 easy ways to transition your dress from summer to fall!
Summer is winding down and we're getting ready for fall—which means we're switching out our wardrobes to include warmer clothing choices.  But, you don't have to put all your dresses away just yet. Maxi dresses are a summer must-have and paired with the right jackets, sweaters, shirts, boots and accessories, they become fall must-haves.
Maxi dresses and maxi skirts are a fashion staple nearly year-round. If you want a different look for fall with the maxis you already have in your closet,  we've got you covered. Keep reading for how to wear a maxi dress in the fall and totally rock the trend!  This post is all about how to wear a maxi dress in the fall. 
This post may contain affiliate links, meaning I receive a small commission if you decide to make a purchase through my links at no cost to you.  
How to wear a maxi dress in the fall? 
Summer dresses aren't just seasonal anymore, especially when we're talking about maxi dresses! You've heard of day-to-night outfits, right? Similarly, we have summer to fall outfits!  When you pair your maxi dress with a jacket, a sweater, or the right shoe, you instantly have your fall dress style!  There are so many ways to wear a maxi dress in the fall, that you'll never have to purchase separate fall dresses again. Styling your summer maxi dress for fall (and even winter) is easier than you think. So read on my friends!
1. Denim Jacket 
A jean jacket is the best way to style your maxi dress for early fall. With summer just behind us, the light weight of the denim jacket will keep us warm on cooler fall nights while still being light enough for the warm weather during the day. Blue denim is a great way to achieve a casual wear look, whether you have faded blue or dark denim! Of course, we have to include our favorite wear-on repeat denim jacket!

2. Black Leather Jacket
We all love a leather jacket – and the black leather jacket is a chic way to dress up a more casual maxi dress. If you pair your fall floral print with a black leather jacket you'll dress up a more feminine style with a more rugged look. I am obsessed with this Madewell-washed black leather jacket. She's expensive, but consider this beauty an investment piece that will last forever!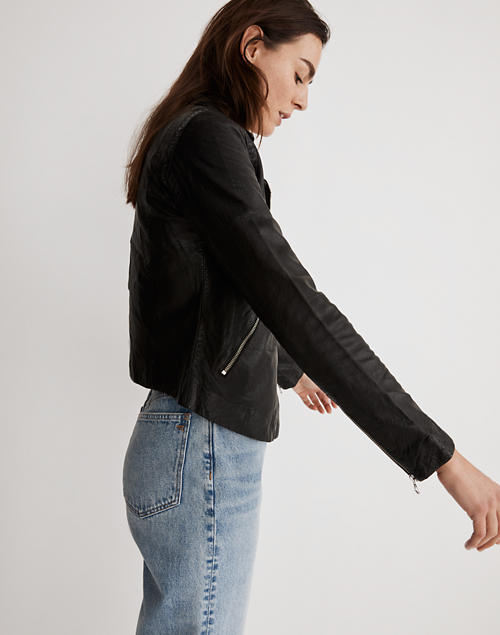 buy @ Madewell
3. Moto Jacket
A moto jacket is like a crop top —anyone can wear them, they flatter all body types,  but has to be paired with just the right outfit. We talk all about crop tops in this blog post here. Moto Jackets are a bit different than your traditional leather jacket because they're short, close-fitting jackets with zips and studs. They offer a more edgy, funky style and they're the perfect way to add some edge to a softer summer maxi dress, especially those with a sheer maxi skirt.  They are perfect for making your maxi dress "fall appropriate."  We love this faux leather moto jacket! 

4. Oversized Sweaters
Anyone who lived through the 90s remembers oversized sweaters. Amiright? And, as we know, fashion always comes back around, these supremely comfortable sweaters are back and better than ever!  Wait did they ever leave.  Probably not my closet! If you have a slinky maxi dress, pair it with an oversized sweater for the model look of ultimate comfort. Oversized sweaters are the answer to how to style a maxi dress in 2022 and beyond!
5. Chunky Sweaters
Arguably, the best part of fall is all of the sweater styles! If you ask me, the chunkier the better when it comes to a fall sweater, and there is no easier way to achieve this look than a cable knit. A style tip for your fall maxi dresses: add a chunky sweater for a cozy look, and a wider belt for a put-together look.

6. Puffed Sleeve Shirts
I love puffed sleeves! They're flattering and comfortable, typically have a great neckline and they add interest to a basic shirt. If you have a maxi skirt or a maxi dress with a fitted top, you can add a puffed sleeve shirt over for an elevated look.

7. Knee-high boots
You might wonder how you can wear knee-high boots with a long maxi dress, but the secret is that knee-high boots hit in just the right place. A high-low maxi is a great choice to make this work!  This style tip is great for later fall when it starts getting chilly because you'll be more covered. Grab some slouchy boots for a boho-chic look.

8. Brown Boots
Brown boots are the LBD (little black dress) of autumn shoes. They go with everything, are durable for sudden weather changes like a surprise shower or chilly breeze, and dress up or dress down an outfit in such a simple way depending on what you style with them. I love to wear my maxi dresses with brown chunky boots or combat lace-up boots and a darker denim jacket for casual wear that still looks elegant and trendy.

9. High Heels 
Heels always add a little depth to an outfit, so grab your best maxi dresses and your best high heels and get ready to wow your friends. Because maxi dresses have a longer skirt, your high heels will elevate your look (literally!) and if you have a gold or earth-toned pair of high heels you'll dive right into fall with this look. This is also a great look if you're wondering how to wear a maxi dress this fall and dress up your look!

10. Gold Jewelry
This one might be a little unexpected but gold Jewelry is classic and timeless. Add it to a maxi dress -grab a maxi dress with side slits and you have an elegant look for special occasions.  Or, you can simplify the gold jewelry and have a perfect everyday look!  You can layer delicate gold necklaces which are super on trend and then you have a sophisticated, artsy look.  You can also go bolder with hoops or dangly gold earrings that shine.

11. Hoop Earrings
Speaking of hoop earrings, they are a great option for dressing up a maxi skirt, especially if you're styling solid colors, and looking for a fun and flirty look. A small, delicate hoop will have a more demure look and a thicker, bigger hoop is bolder but an unexpected benefit is that they will show off your bone structure and jawline!

Q&A: 
How to wear a maxi dress in the fall? 
Maxi dresses have always been a favorite of mine because they flatter everyone, are comfortable and are versatile. If you're used to fully changing your wardrobe with each season, and it's a frustration, worry no more. It's so easy to wear a maxi dress in the fall! Whether you add a jacket or cozy sweater, with the right pair of boots, and accessories, you'll feel more comfortable and confident than ever knowing how to wear a maxi dress in the fall (and on to winter!).
What to wear over a maxi dress for a wedding?
I have a floral maxi dress that can be dressed up for an autumn wedding with a chunky sweater, plum-colored high heels (the dress has beautiful plum/ purple flowers), and gold hoop earrings. It's perfect for a wedding and you could do the same – just choose a sweater and heels that match the flowers in your dress!  If you are wondering how to wear a dress and cover your arms any time of year, read all about your options in this post!
Can you wear a maxi dress in September? 
1000%! September is a month that can still be warm during the day but tends to get cooler in the evening.  Maxi dresses are perfect for the day and then grab a sweater or a jacket and you will still be comfortable as the chilly temps arrive in the evenings.
 Maxi dresses can be styled in so many ways, there's no need to pack them away just because the weather is cooling down. With a few key pieces mentioned in this post, you can easily transition your favorite maxi dress into a Fall look that will keep you comfortable and stylish all season long.
This post was all about how to wear a maxi dress in the fall.
Other posts you might enjoy:
"TheJuneBloom is a participant in the Amazon Services LLC Associates Program, an affiliate advertising program designed to provide a means for us to earn fees by linking to Amazon.com and affiliated sites."